12345678910111213141516171819202122232425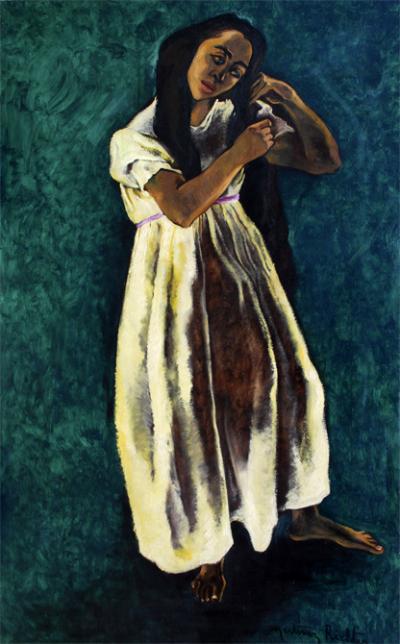 Martinez-Richter
Moresque putting on her hair II
1955
Oil on panel
250 x 155 cm
Read in the magazine " FEMITUDE " June-August, 2010 :
The Mediterranean sea by Alice Martinez-Richter
"Alice Martinez-Richter (1911-1996) was one of the first women prize-winners of the Prize of Rome of paint(painting, which she obtained in 1933 and in 1939. Both banks of the Mediterranean Sea held an important placein her work as in her life. She married Antoine Martinez, a Spanish painter of origin native of Oran... In 1940, she lands only in Algeria, in her in-laws, while her husband is mobilized on the front. She will stay there five years, at first in Oran then to Constantine. Five years in the course of which the Parisian young person is going to dive into the Spanish culture of her in-laws and into the lights, the colors, the landscapes of Algeria. An earth which profoundly influenced her paintin and which continued to inspire her after her return in metropolitan France.
For the first time for more than 25 years, the Museum of Narbonne exposes 54 works symbolizing the links between Alice Martinez-Richter and the Mediterranean Sea, of North Africa in the Iberian peninsula.
Until October 3rd, Museum of art and history of Narbonne."

" Tous droits de reproduction réservés. Sauf autorisation, la reproduction ainsi que toute utilisation des oeuvres autre que la consultation individuelle et privée, est interdite. "
www.terza-rima.com | Administration