12345678910111213141516171819202122232425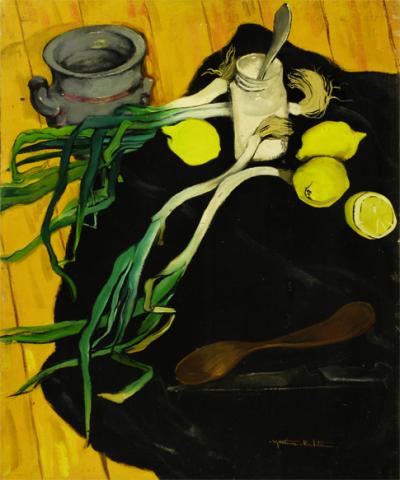 Martinez-Richter
Leeks, lemons and stoneware pot
Circa 1947
Oil on panel
65 x 54 cm
Read in "L'Art ... vues" magazine (june-july 2010)
A. Martinez-Richter and the Mediterranean sea in Narbonne
"The East, the Mediterranean culture and the sea unite the Museum of art and history of Narbonne and the painter Alice Martinez-Richter, who was one of the first women prize-winners of the Prize of Rome of painting in 1933 and in 1939.
Representative of her powerful and sensitive painting, 54 works presented (figures, landscapes and still lives) give evidence of links between Alice Martinez-Richter and both sides of the Mediterranean Sea, North Africa to the Iberic peninsula.
" Si Alice Martinez is held near immediate of the vegetable existence, it is because she overflows a big tenderness and a big respect for all which is alive; she knows that the species continue ceaselessly to engender; that the perpetuity of the existence is the only reality of which we are sure, wrote Jean-Louis Audin in Letters and the Arts.
A real event in the magnificent palace of Archbishops de Narbonne and its unique collection of Orientalist works
Presented in a decoration of oriental palace.
From June 12th till October 3rd, Museum of art and history of Narbonne.
Phone number : 04 68 90 30 54 "

" Tous droits de reproduction réservés. Sauf autorisation, la reproduction ainsi que toute utilisation des oeuvres autre que la consultation individuelle et privée, est interdite. "
www.terza-rima.com | Administration