12345678910111213141516171819202122232425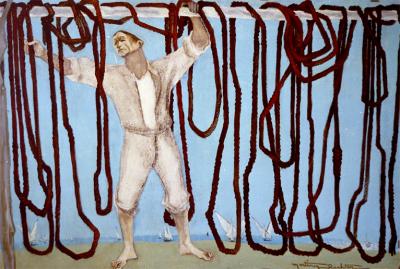 Martinez-Richter
Fisherman with ropes
Circa 1962
Oil on panel
125 x 195 cm

To read in the magazine "CÔTÉ SUD" Août-Septembre 2010 page 16 :
"Plastic humanity
Alice Martinez-Richter (1911-1996) was one of the first women prize-winners of the Prize of Rome of painting, in 1933 and in 1939. Audacious expressionist, she had never stopped anchoring the Mediterranean Sea in her life. Banks of North Africa in the Iberic peninsula, the felt aesthetic shock crosses lands of sun, Moresque portraits... Fifty four paintings put rhythm into a strong talent.

Caroline Guiol

Until October 3rd. Museum of Art and History of Narbonne, palace of the Archbishops, 11100

Phone Number : 0468903054."
" Tous droits de reproduction réservés. Sauf autorisation, la reproduction ainsi que toute utilisation des oeuvres autre que la consultation individuelle et privée, est interdite. "
www.terza-rima.com | Administration