12345678910111213141516171819202122232425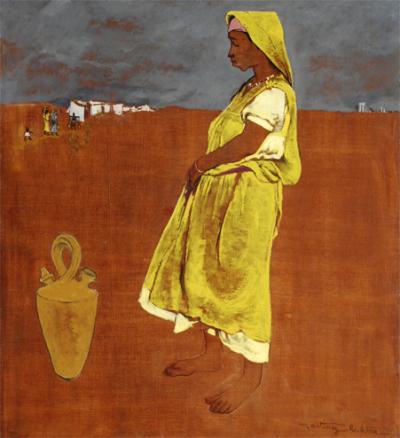 Martinez-Richter
The carrier of water
circa 1961
Oil on panel
138 x 125,5 cm

Read in the magazine "Art &Décoration" july-august 2010 :
EXPRESSIONISM AND THE MEDITERRANEAN SEA
"The East, the Mediterranean culture and the sea are for the honor to the museum of Art and History of Narbonne to celebrate the centenary of the birth of Alice Martinez-Richter ( 1911-1996 ), which was one of the first women prize-winners of the prize of Rome of painting. Representative of her powerful and sensitive work, fifty four paintings presented (figures, landscapes and still lives) give evidence of links between the artist and both banks of the Mediterranean Sea, from North Africa to the Iberic peninsula.
They also show of the route of an audacious expressionist artist, since her second prize of Rome, in 1939, up to its last paintings at the end of 1980s. An exhibition event, because the works gathered by the museum had been shown for no more than twenty five years."

" Tous droits de reproduction réservés. Sauf autorisation, la reproduction ainsi que toute utilisation des oeuvres autre que la consultation individuelle et privée, est interdite. "
www.terza-rima.com | Administration