12345678910111213141516171819202122232425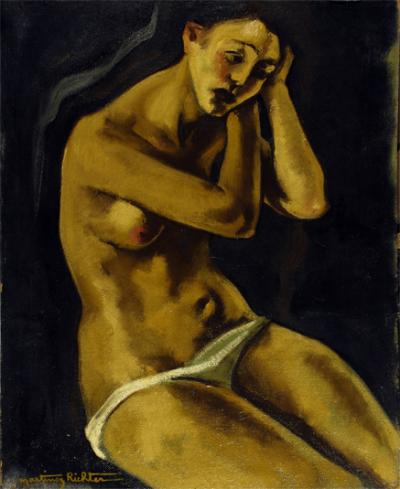 Martinez-Richter
Nude putting on her hair, with dark background
1949
Oil on panel
81 x 65 cm
Read in the magazine "Parcours des arts" july-august-september 2010 :
We would say the South ...
"Both banks of the Mediterranean Sea hold an important place in the work of Alice Martinez-Richter (1911-1996) as in its life. Already noticed and outdone during her artistic formation in Paris, she marries in 1939 one of her companions of the School of Fine Arts, the painter Antoine Martinez, a Spanish Mediterranean of origin, native of Oran. While he is in the front, she leaves for Algeria to her in-laws of which she gets acquainted. In the emotional shock is added an aesthetic shock : the young Parisian discovers Algeria, her lights, her colors, her landscapes and her inhabitants. Joined in 1940 by her husband, Alice knows for five years a period of dumping in the double Mediterranean culture, that of Algeria where she lives and that of her Spanish in-laws.
The Algerian earth marked profoundly its painting with portraits and essentially feminine nudes.
After the war, she returns in France, teaches in Toulouse, then moves in Paris region; every summer the family goes in Spain. She is noticed by her painting of landscape there and exposes repeatedly.
The fifties until the moment when she stops painting in 1986, she travels, accumulates prizes and realizes exhibitions.
She leaves an imprint of the colors of the South and the tones of the Mediterranean Sea. Every picture is a hymn in a simple and laborious humanity, in lights and solid colors which she gives for eternal."

" Tous droits de reproduction réservés. Sauf autorisation, la reproduction ainsi que toute utilisation des oeuvres autre que la consultation individuelle et privée, est interdite. "
www.terza-rima.com | Administration