Events
Exhibitions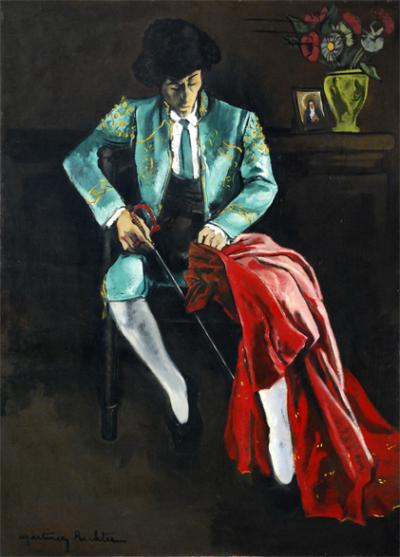 Martinez-Richter
Contemplation before entering the arena
1955
Oil on panel - 155 x 112.5 cm
The Suits of Light, from Goya to Alice Martinez-Richter :
In the mid 1950s, Alice Martinez-Richter (1911-1996) painted in two pictures, both sides of the bullfighting culture. She was one of the first women to receive the Prix de Rome in painting in 1930, and she captured the bullfight theme to emphasize the duality of sacred and profane.

Representative of her powerful and sensitive painting , her bullfighters wear the traditional "suit of lights". But beyond the costume of parade richly decorated and painted with virtuosity, the artist put in her paintings the Spanish soul and the human condition ...

After being exposed in 2010 at the Art Museum of Narbonne in the exhibition "Alice Martinez-Richter and the Mediterranean, " "Meditation before entering the arena" and "The Matador" will be presented with drawings by Goya , paintings by Uria Monzon, Christian Gaillard, Viallat ... , sculptures and costumes of bullfighters ... to unfold the story of the suit of lights, from nineteenth century.
" All rights reserved. Except authorization, the reproduction as well as any use of the works other one than the individual and private consultation, is forbidden. "
www.terza-rima.com | Administration